No wind, short range – no excuses. Air Rifle is one of the most technically demanding shooting disciplines out there, requiring acute attention to position, breathing and balance as you seek the 0.5mm bull.
Rugeley members compete in many competitions at individual; club; county and national level. Several have been privileged to represent England, Wales and Great Britain over the years. Our Air Rifle A-Team won Division 1 of the National League in 2018, 2019 and 2020.
Men, women and juniors can all take part and enjoy this demanding, but rewarding discipline.
As we have club rifles and pistols available, we strongly recommend new members do not buy air rifles or pistols before joining, but instead spend some time getting to know the club equipment so they can make a more informed choice when it comes to parting with hard earned cash!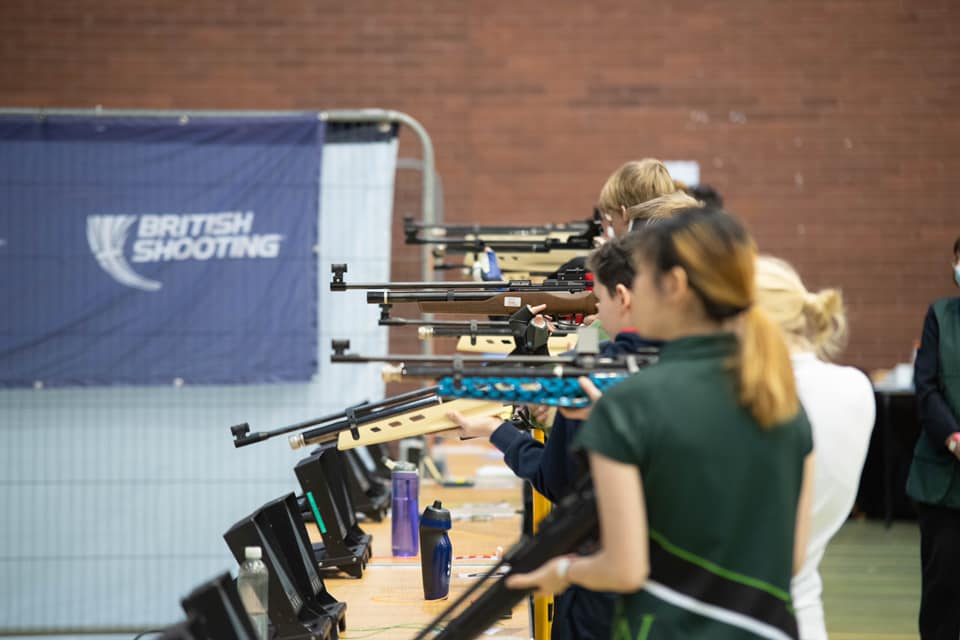 Over the past two years, Rugeley has supported the British Shooting Schools Airgun Championships, the National Finals of which were held at Cannock Chase Leisure Centre. Volunteers from the club have covered Range Officer duties and provided other support across the matches.
Range Limits – Please note our ranges are configured for .177 calibre match rifles conforming to NSRA and ISSF competition rules, generating ~6ft.lb of muzzle energy. We do not permit the use of .22 calibre airguns or hunting-oriented air rifles tuned closer to the legal limit of 12ft.lb.