Rugeley member Rich Hemingway had a sterling weekend at Bisley, shooting for Wales and qualifying for the Final of the British Prone Championship (the "Earl Roberts Championship") at the close of the NSRA's 2023 National Meeting.
On Friday, Rich warmed up by comfortably making it through the First Stage of the Earl Roberts, placing 9th of the 50 who qualified. That afternoon he went on to shoot in the Home Countries International, competing for Wales against England and Scotland. Wales narrowly placed third, close behind Scotland. Rich had the second highest score in the Welsh team, just a point behind Sian Corish – who was awarded the "Tartan Dragon" trophy for highest Welsh scorer.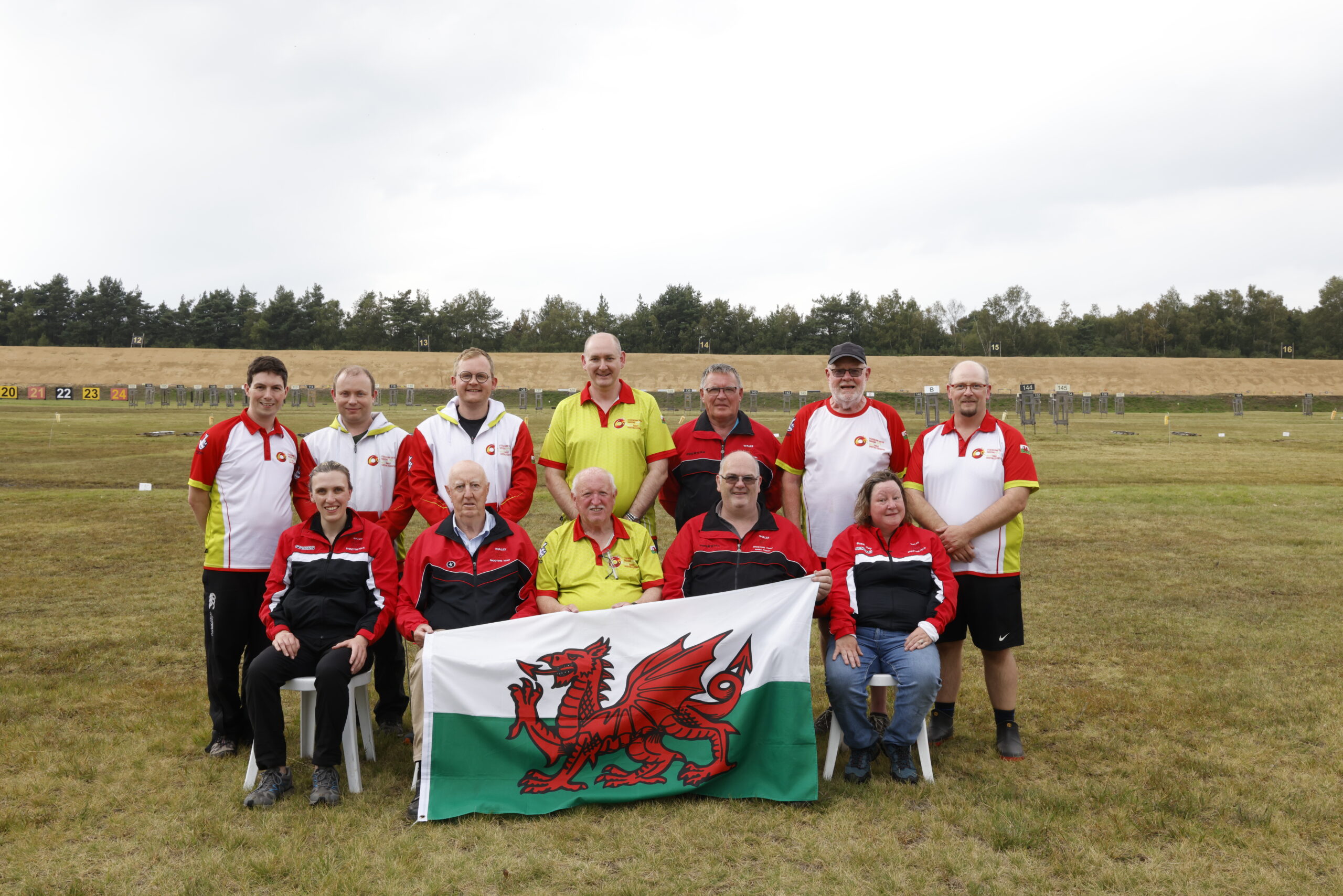 Rich Hemingway with the 2023 Welsh Home Countries Team
photo credit: Eleanor Shorey theshorey.co.uk
On Saturday morning, competitors took to the range for another early start to contest the Second Stage of the Roberts, from which 40 qualified to the final. Placing 27th, Richard entered his first Roberts Final, making him the first Rugeley or Staffordshire shooter to compete in the final for some years.
Shooting a Double Dewar course – 40 shots each at 50metres and 100yards – the wind picked up significantly, as is appropriate for championship finals! In gusty conditions, many competitors struggled to keep their scores above 190, with a smattering of big flyers (including 4s and 6s!) seen along the range, especially on the 100yard portion. Keeping their cool amongst all of them though was 2022 champion Lina Jones, who retained her title with a score of 772. Rich finished his debut Final with 756, placing him 20th.