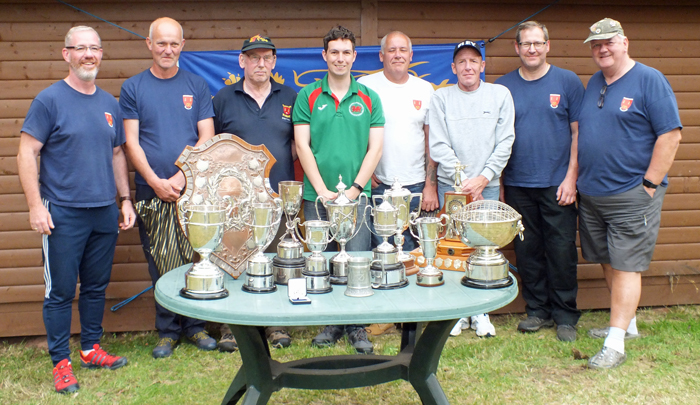 Rugeley members carried away a table full of silverware at the County Championships on Sunday 4th August, winning all four divisions.
Richard Hemingway was the top Staffordshire scorer in Class A, winning the Association Cup and becoming County Long Range Champion as well as taking the 50Metre Trophy for County 50M Champion. Along the way he also claimed the Miniature Rifle Club (Class A Winner), Michelin Cup (Best 100yds, Class A) and Greatrex Cup (Best County Badge Holder). Rugeley Chairman Martyn Buttery picked up the Bronze Medal in A Class and the two of them won the Pairs Competition.
Paul Baron won the Swynnerton Cup for Class B, with Phil Knight as Runner Up. Phil also won the K. Madeley Rose Bowl for Champion Veteran. Paul Watkiss won the Moat Cup for Class C, and also the NSRA County Silver Medal (Highest Scorer who hasn't previously won one).
Brian Parker won Class D with Graham Delaney picking up Bronze.
On the Open Teams, Rugeley's Team-of-4 placed second behind a strong team from Appleton.